ODON Geleg, State Laureate and People's Artist: "Watercolor studies" exhibition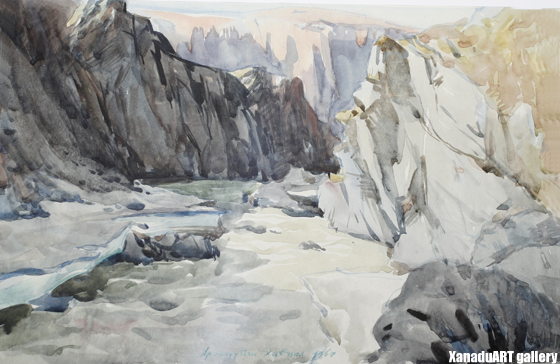 Exhibition dates: January 11 – 24, 2007
"XanaduART" gallery is honored to host an exhibition of watercolor studies by G. Odon, State Laureate and People's Artist. G. Odon is one of the most revered figures of Mongolian art and a classical representative of socialist realist painting dominant throughout the 20th century.
Odon was born in Dashbalbar soum of Dornod aimag in 1925. While working, he attended drawing courses, eventually enrolling at the Surikov Moscow State Art Institute under the instruction of Professor Korzhevsky. After graduating, Odon taught art at the State Teacher's Institute, shaping the minds of many future artists.
History, common life and nature are the prevailing themes of his oeuvre, as evidenced by "After work", one of his most famous paintings. Besides being a master of oil painting, Odon was a spectacular watercolor artist. Odon's works are held by the Modern art gallery of Mongolia and other public collections.
The present exhibition brings together previously unexhibited watercolor studies by the late master dating from the 1970s and 1980s, the exhibition was made possible by the generous initiative of Odon's daughter O.Nyamaa.
For more information about this exhibition please call XanaduART gallery at 976-11-310239 (Mongolian) or e-mail info@xanaduartgallery.org (English).
SELECTED WORKS EXHIBITED