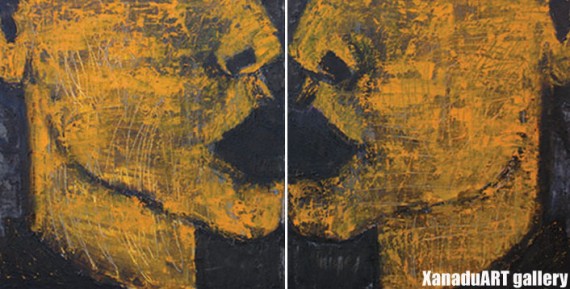 THE EXTRA OBJECT
February 13 – March 4, 2009
Opening: February 13, 2009 at 5 p.m.
XanaduART gallery is pleased to present B. BADRAL's solo exhibition entitled "The extra object". The exhibition showcases the artist's latest portraits and nudes. 
Badral's work greatly differs from the traditional definition of portraiture given the highly abstract nature of his works. Badral is not interested in the outward appearance of his subjects, instead, he wants to portray their inner world with its suffering, hidden desires and inexpressible thoughts. Accordingly, he gives seemingly absurd titles to his paintings. For instance, a painting of a young man, whose facial features are merely outlined, is entitled "Paper, pen, fallen scratches and head". The ambiguity and incomprehensiveness of the titles is mirrored by the artist's simplicity of composition. Badral's works are always self-referential – he is at once both the subject and the artist. Thus, his work abounds with mirror images – often, a portrait consists of two separate canvases depicting the same subject twice.
Born in 1985, B. Badral graduated from the Institute of Fine Arts in 2007 with a painting major. His work has been shown in various group exhibitions in UB, including UMA's annual "Spring" exhibitions. "The extra object" is Badral's first solo exhibition.
Please contact the gallery at 976-11-310239 (Mongolian) or e-mail info@xanaduartgallery.org (English) for more information regarding this exhibition.
SELECTED WORKS EXHIBITED