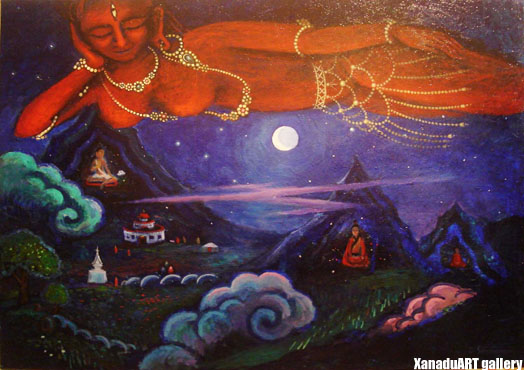 Exhibition dates: April 5 – 15, 2007
XanaduART gallery is proud to present a solo exhibition by D. Soyolmaa entitled "The City of Gandharas". Soyolmaa, who has graduated from the University of Arts and Culture in 1998, is dedicating her current exhibition to the reconstruction of the Baldan Khajid Ling monastery, founded in the 1830s by Danzanravjaa in the Zaisan region of UB. The monastery had been destroyed during communist purges, however a loyal group of followers are endeavoring to reconstruct Baldan Khajid Ling in all its glory. Soyolmaa is generously donating all the sale proceeds from "The City of Gandharas" exhibition to the reconstruction project.
In keeping with the goals of the exhibition, artwork of "The City of Gandharas" exhibition mainly features Buddhist inspired themes, including images of Boddhisatvas, Buddhist scenes and traditional thangkas.
For more information about this exhibition please call XanaduART gallery at 976-11-310239 (Mongolian) or e-mail info@xanaduartgallery.org (English).