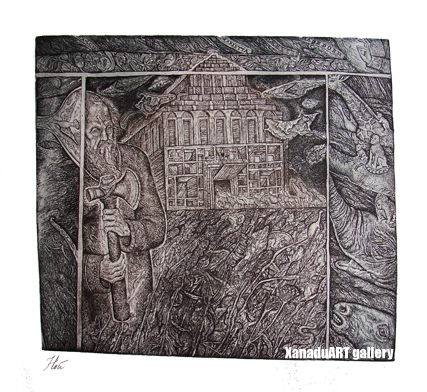 December 25, 2006 – January 3, 2007
"XanaduART" gallery is proud to present a solo exhibition of graphic work by the Russian artist Leonid Stroganoff entitled "Sensibility". The exhibition was organized in collaboration with Mr. Stroganoff's friends in Mongolia and the Embassy of the Russian Federation. Works exhibited include a series of illustrations based on William Shakespeare's "King Lear" as well as Biblical scenes. The exhibition opening was attended by representatives of the Embassy of the Russian Federation and the Ministry of Education and Culture of Mongolia. A violin quartet added to the ambience of the evening by performing classical favorites.
Leonid Stroganoff, born in 1979, has received extensive arts education from the leading fine arts schools of the Russian Federation. His works are held in the collections of the Petersbourg Public Library, Hermitage Library, Boston Public Library, State museum of Vologda as well as private collections around the world.
INSTALLATION VIEW