SOUND OF SPACE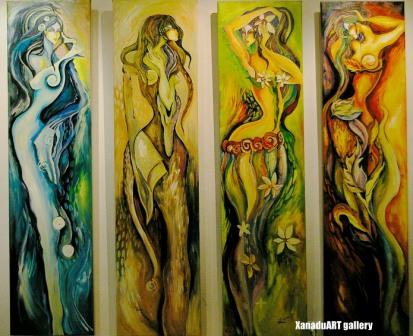 December 20, 2007 – January 3, 2008
Opening reception: December 20, 2007 at 5 p.m.
XanaduART gallery is proud to host an exhibition of new works by Zazaa (G. Narantsatsralt) entitled "Sound of space".
Zazaa's paintings are dynamic manifestations of life – she expresses her internal passions with a bold use of color and a richness of representation. Zazaa's work is deeply sensual because she mainly chooses to work with the imagery of the female form, the beauty of which is accentuated by her vibrant use of color. Although her works may be considered erotic, Zazaa's portrayal of the body invokes an almost spiritual awe, endowing her paintings with a magical quality.
Zazaa, born in 1973, has graduated from the Institute of Fine Arts in 1999 under the instruction of L. Bumandorj. She has been painting professionally since 2001, and now alternates her working year between her studios in both Berlin and Ulaanbaatar. Art connoisseurs may have seen her work in the "Le Soleil" restaurant at the Narantuul hotel.
Please contact the gallery at 976-11-310239 (Mongolian) or e-mail info@xanaduartgallery.org (English) for more information regarding this exhibition.