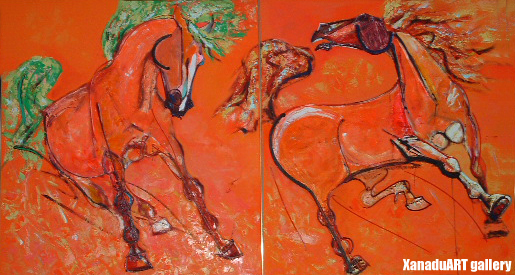 Exhibition dates: December 11 – 18, 2006
XanaduART" gallery is pleased to host A. Chadraabal's exhibition "Upon grand mountains". The exhibition was inspired by the artist's trip to Khovd aimag's Altai mountains, whereby the artist sought to recreate their grandeur and color in his large-scale paintings. Chadraabal, born in 1979, is the son of Mr. Adyabazar, a renowned Mongolian artist and recipient of many awards. Chadraabal has graduated from the Mongolian Teacher's University with a painting degree in 2001. He currently teaches art at his alma mater.
For more information about this exhibition please call XanaduART gallery at 976-11-310239 (Mongolian) or e-mail info@xanaduartgallery.org (English).
SELECTED WORKS EXHIBITED