RED BLUE RED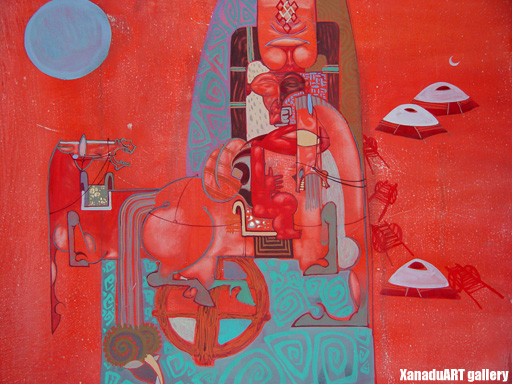 July 2008
Opening reception: July 20, 2008
This Naadam XanaduART gallery will host N.Munkhbat's "Red blue red" solo exhibition showcasing more than 30 works by the artist.  
Munkhbat's work combines techniques of Mongolian traditional painting (Mongol zurag) with western oil painting methods in order to create a unique fusion of styles. His works often explore characters from Mongolian folklore and history, endowing familiar motifs with a fresh perspective.
Born in 1979, Munkhbat has graduated from the College of Fine Arts (Ulaanbaatar, Mongolia) in 1996. He has participated in numerous exhibitions both at home and abroad. Munkhbat was awarded second prize in XanaduART gallery's annual "In pursuit of an ideal insight II" art competition held in 2007.
Please contact the gallery at 976-11-310239 (Mongolian) or e-mail info@xanaduartgallery.org (English) for more information regarding this exhibition.
SELECTED WORKS EXHIBITED